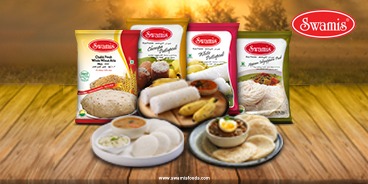 Swamis as Food Product Suppliers
Good food is at the center of all living beings. With the fast-paced lifestyle and an ever-growing world, the demand for packaged foods has been the highest in recent years. The drying, sorting and grinding of spices at once own kitchen is a far of memory which many people can't afford to sit on. Thus arises the need for quality food products. With their phenomenal flavor plates and authentic spice and curry powders, Swamis is one of your grandma-approved food product suppliers. 
The Best Food Suppliers in Kerala 
Green Valley Condiments is a household brand. It is one of the well-known and largest food product manufacturing companies and food product suppliers in Kerala, South India. Food company exports ground spices and curry powders to various countries, with a constantly increasing client base. Swamis food product suppliers is a Green Valley Condiment's subsidiary brand. These reputed Kerala spice exporters supply curry powder of the highest quality. Additionally, Swamis foods manufactures, packages and exports the finest spices powders, curry powders and masalas mixes. Swamis is popular across the world.
Established back in 2005, Swamis have had a remarkable journey. They have been a fan favorite in South India, also one of the best food product suppliers in South India. A number of different packaged products are currently available in the market. From breakfast through lunch and dinner, their custom range of goodies is beloved all over the world. This alone makes them the best food suppliers in Kerala, South India. With their strict quality check, Swamis always bring the finest products to the table. The refined nature of the brand can be tasted in every packet out in the market. Further adding to their popularity. 
Get to know them a little more!
Curry Powders 
Swamis spices are cultivated in the finest circumstances in the hills of Kerala. For the best blended masalas in traditional flavors, go no farther than our  Curry Powder. In accordance with age-old techniques, all the spices are in the right amounts. Many South Indian homemakers use Swamis fine rice powders to prepare morning delicacies such as Puttu, Appam, Pathari, Porotta, Chapati and Upma. And this makes Swamis Foods one of the favorite food product suppliers of South Indians.
Curry powders are a bracket name for spice blends. It is generally used to spice up the dishes. From sambar powders to the chicken masala and garam masala, Swamis serve some amazing quality curry powders. Each of these is meticulously made to mirror the taste of traditional recipes. As the best food product suppliers in South India, Swamis make sure the highest quality is maintained. 
You can never go wrong with Swamis curry powders. 
Pickles and Sides
Some of the world's greatest pickles may be found in Swamis' food product line. Freshly squeezed vegetable oils give these traditional pickles and chutneys their spicy, tongue-tingling taste. As you can see, the components have been carried from farm to factory in the quickest period of time feasible, and they are finely ground. Ensuring top-notch quality making Swamis, not just the finest pickle manufacturers and exporters, but the best food product supplier in Kerala. 
Natural/organic food demand has surged in the last decade, and pickles are no exception. Pickles are minimal in calories and fat; an ounce of pickled pepper includes just seven calories. The global market has risen as a result of growing customer demand for nutrient-rich foods and an increase in clean-label claims. Despite the fact that store-bought pickles are widely available, they lack the flavor and taste of handmade pickles. This inspired Green Valley Condiments, one of South India's premier food suppliers, to create high-quality pickles with genuine flavors reminiscent of your grandmother's cuisine.
Compliment your every meal with a tasty bite of Swamis pickles. 
Rice and Rice Products
Even though a pioneer as spice powder manufacturer, exporter, and one of the best food product suppliers, rice and rice powders are also a favorite of theirs. Most of their customers are from the Middle East, Europe and India. Swamis rice is available in both its hulled and par-boiled forms. Swamis rice packs have all of your favorite South Indian rice grains.
In Kerala, Green Valley Condiments is the number one food producer. Swamis Foods is one of their most successful powdered food product brand, and food product suppliers. Part of the company' aim is to provide authentic South Indian flavors to the international market. In the kitchen, Swamis bring smiles to everyone's faces.
Swamis foods– The real food product suppliers of South India delivering a mouthwatering flavor of opulence.