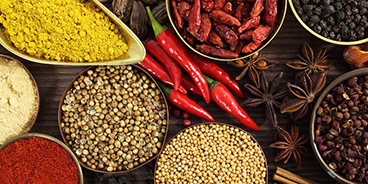 The Life of Green Valley Condiments
When you hear green valley, two things may pop up in your mind—a plush green terrain filled with the aroma of vegetation bustling with nature and life itself. And the second, one of the largest food manufacturers and exporters in Kerala –
Green Valley Condiments
. Thus is the legacy of the brand that is headquartered in Kerala. 
From the very beginning, the
Green Valley Condiments
played an essential role in spreading the goodness of South Indian cuisine across the Eurasian continent. They became pioneers in food manufacturing and soon reached the top being the number one
food exporters
in Kerala. This was achieved by the company's dedication and meticulous eye for quality. Each of its products, be it ground spices, pickles, rice and rice powders, chutney powders, and more, is of the highest quality without any compromise in flavours. The secret behind their success can be attributed to their masterful recreation of the mesmerising palate of traditional south Indian recipes. 
Condiments maker
Green Valley Condiments
is one of the most well-known and largest
food product manufacturing companies
. They are an international packaged food product company with a fast-growing customer base. They also sell ground spices to countries across the world.
Green Valley Condiments
processes, packages, and exports some of the most delicate ground spices and masala powders of good nutritional value. The
Swamis food products
are a beloved subsidiary brand of theirs which is enjoyed by people across the continent alike. In addition to offering the highest quality curry powder, Swamis is a renowned spice exporter from Kerala. Brand
Swamis foods
is well-loved among South Indians and South Indian cuisine lovers in Europe, the Middle East and India.
Green valley condiments have a custom range of packaged food products. Being
pickle manufacturers and exporters
, they use high-quality base ingredients hand-picked from the terrains of God's own country. Everything is monitored and packaged as per the food and safety guidelines taking extra care every step of the way. The
Swamis curry powder
range is one of the most loved across the globe. This is due to the consistency that each grain carry. Every pack is packed with flavours that even the traditionalists cannot shy away from.
Swamis foods
being a
Green Valley Condiment
subsidiary brand, gets the ingredients for their
curry powder
from the foothills of western ghats. 
The world has realised the need for organic and nutritious food and food products.
Green Valley Condiments
is well-positioned to fulfil the world's increasing need for high-quality agricultural goods. A substantial edge in the marketplace has resulted from the upgrading of their grain handling and processing facilities, as well as their packaging machinery.
Green Valley Condiments
– dedicated to meeting global orders and export needs.