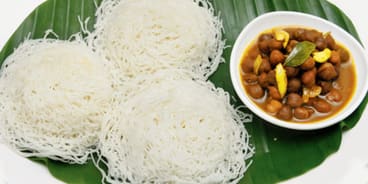 Idiyappam and Kadala Curry
It looks and feels like stringy translucent noodles and feels nice in the mouth with a chewy feel. It is steamed and healthy. Welcome to a taste of Idiyappam loved all across the Southern region of India and in Sri Lanka too.
Idiyappam / String Hopper / NoolPuttu
String Hopper is an anglicized name given to the popular Kerala breakfast food – the Idiyappam. It looks and perhaps tastes a bit like rice noodles but gets its unique taste from the typical Kerala rice and coconuts. Now making Idiyappam is very easy with fresh Idiyappam rice powders from Swamis. All you have to do is mix Swamis Idiyappam finely-powdered rice with hot water in the right constituency and squeeze it through the sieve.
Ingredients
1 cup Swamis rice flour
1-1 ½ cups water
1 teaspoon gingelly oil
Salt to taste
To Prepare
Boil the water in a pan.
Use the boiled water to knead the flour into a sticky yet firm dough.
Use an Idiyappam press and press the dough through it to make strings of in typical small round molds.
The idiyappam strings can be squeezed on to lightly oiled depressions of the idli "thattu" (stand).
Or else, idiyappam can be squeezed on to the layer of the steamer and steamed.
Cooking time of about 5 minutes. Serve hot.
Kerala Style "Kadala Curry"
Idiyappam is best enjoyed with Kerala style 'Kadala Curry' (Bengal Gram curry). The lightly spiced curry with subtle hints of ginger and cardamom is delicious and filling. It is one of the best-loved breakfast items in Kerala and much loved by everyone who visits the state. Kadala curry can also be enjoyed with appam, puttu, chappati made with Swamis ready to make rice and wheat powders. The Kadala Curry recipe is given below –
Ingredients
¾ cup Bengal gram
2 cups water for soaking Bengal gram
2 ½ cups of water for pressure cooking the Bengal gram
½ teaspoon fennel seeds
1-inch cinnamon bark
3 strands of mace
2 pinches of nutmeg powder
3 cloves
½ cup grated coconut
⅓ cup chopped onion
½-inch ginger chopped
10 curry leaves
green chilis
½ teaspoon mustard seeds
¼ teaspoon turmeric powder
1 teaspoon coriander powder
¼ teaspoon red chili powder
2 tablespoons olive oil or coconut oil
Salt to taste
The Preparation
Soak the Bengal gram in adequate water overnight.
Add salt and boil the Bengal gram in water with pressure cooker. Wait for 6-8 whistles.
Meanwhile, blend the grated coconut in a bit of water.
Now, dry roast the fennel seeds, mace, nutmeg, clove, and cinnamon.
Grind the roasted spices and keep aside.
Add two tablespoons of coconut oil to a pan and add mustard seeds.
When they start to crackle, add the chopped onions and sauté for 1-2 minutes.
Add ginger and chopped green chili and let fry for 30 seconds.
Add the curry leaves and let cook till the onions turn translucent.
Add the powdered roasted spices, chili powder, and coriander powder and fry for 2 minutes.
Now, add the blended coconut paste and stir well for 4-5 minutes on a low flame.
Add the boiled Bengal gram and cook for about a minute.
Add two cups of water and salt to taste.
Let it come to a boil.
Switch off the flame.
Serve hot with Swamis Idiyappam.